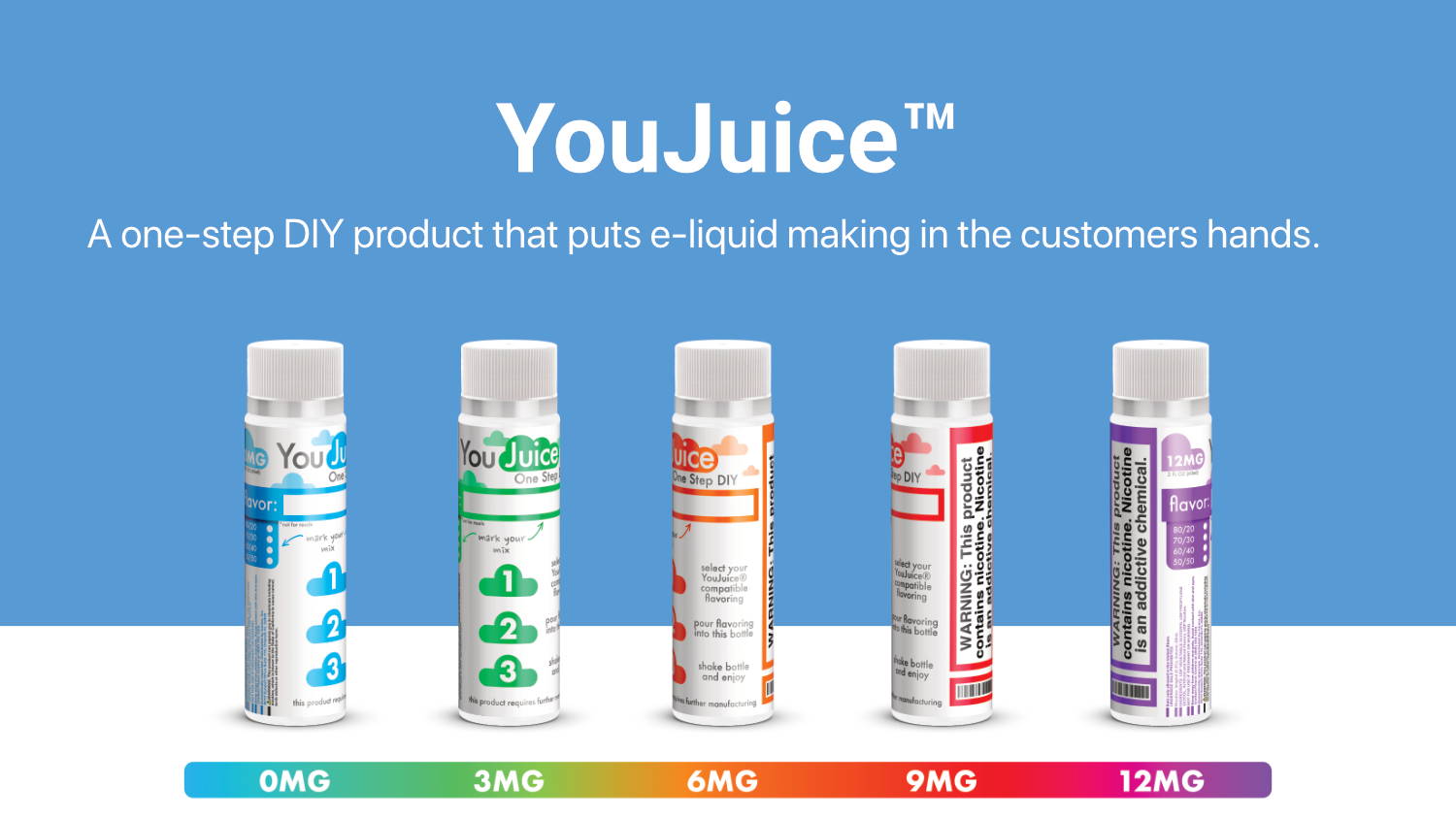 Building a system that cures the flavor-ban headache (and PMTA's)
A product that allows vape shops and juice lines to continue selling their flavors while following regulations placed on flavored e-liquid products.
Standardized Bottle Sizes
We offer 60mL Chubby Gorilla® Bottles with various nicotine strengths (0mg, 3mg, 6mg, 9mg, 12mg). The 60mL bottles will require a 30mL, pre-blended, Flavor Base consisting of your flavor(s), PG or VG, depending on your final PG/VG Ratio.
We are standardizing the Flavor Base bottles to allow up to 50% PG-based component for the intended final bottle size of e-liquid, giving you full control and the ability for customers to easily mix your recipe at the PG/VG Ratio you designed.
Easy for Consumer Use
All of our bottles require further manufacturing and thus are components. Consumers will purchase a bottle of YouJuice™ base and add whichever Flavor Base they decide, both sold separately. The consumer will then pour their Flavor Base into the bottle of YouJuice™, heat and shake. What they are left with is a finished flavored e-liquid - the same bottle of e-liquid they'd normally buy pre-mixed on the shelf.
No measuring, buying multiple flavors and they can get any flavor any brand decides to release as a YouJuice™ Flavor Base.
Made for Vape shops and Juice Lines
Vape shops and juice lines may manufacture their flavors themselves or have them fulfilled through us. Contact us to find out how to make your own flavor bases or to have us make them for you.